I was seven and about to enter the third grade at the Gerry School when the battleship USS Missouri made a celebratory visit to Marblehead, anchoring in Massachusetts Bay just off Halfway Rock on August 3, 1946.  I knew about the ship from newsreels I had seen at the Warwick Theater showing the ceremony on its deck with General MacArthur and the top hatted Japanese officials. Looking out from our Elm Street yard I could see the Missouri way out beyond Children's Island.  It was much further away than a couple of other naval vessels that had anchored off Children's Island during their visits. I guessed that the waters off Children's were too shallow for such a big ship.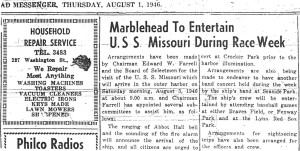 It was open for tours to which my mother and I were ferried, after waiting in a long line, from State Street wharf in Marblehead. The Navy used drop-front landing craft fitted with benches to take us out. The first thing I noticed when we approached the Missouri from the starboard side was the catapult near the stern with the float plane (a Vought Kingfisher) mounted on it. Then, sailors helped us off the landing craft and onto the narrow dock and stairway suspended along the side of the ship. On board, an officer led us to the plaque in the deck commemorating the Japanese surrender. I read the words:
OVER THIS SPOT ON 2 SEPTEMBER 1945 THE INSTRUMENT OF FORMAL SURRENDER OF JAPAN TO THE ALLIED POWERS WAS SIGNED THUS BRINGING TO A CLOSE THE SECOND WORLD WAR. THE SHIP AT THAT TIME WAS IN TOKYO BAY.
I felt amazed, as a seven-year-old kid, to be allowed to stand at this place. My mother had said, "David, you are so fortunate to live in America. It is the greatest country in the world." Now, on the deck on the USS Missouri, I felt connected with the country, with the War and with the final victory. These feelings haven't changed in sixty-seven years.
When we left the ship and descended the narrow stairway the sea had kicked up. The landing craft waiting for our group lurched, rising and falling with each wave. The sailors on the small dock had to time their transfer of each person to the instant when the gunwale of the small boat was level with the dock. After we were safely seated, I asked my mother, "What would have happened if I had fallen in"? "There are two-thousand sailors on this ship who would have jumped in to save you," she said.